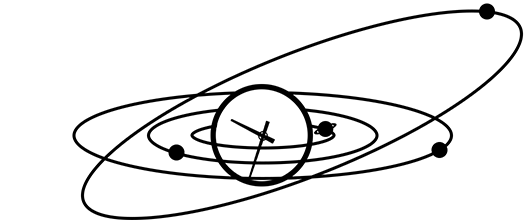 Get FREE Daily Horoscopes
And two free guides from Trusted Tarot!
Get FREE Daily Horoscopes and Interpretations of your Astrology.
Why do people love getting their Horoscope from Horoscope Dates and Trusted Tarot?
I get wonderful emails everyday from subscribers, and I have posted some of them here for you to read. If you would like to to add yours, please send me an email at [email protected]!

Your horoscopes and readings have been amazingly accurate, I am always waiting for the new ones. I have gotten so much good advice and wonderful pointers to change my life for the better and move in the right direction!
- Annika R.

Horoscope Dates and Trusted Tarot have really changed my life. There is not a day I start without reading my Horoscope or checking my Tarot cards. They give me encouragement and motivate me, and give me insights into who I am and how I can improve my current situations.
- Raksha P.

The horoscopes from Horoscope Dates are the ONLY ones I will read. Normally I am very sceptical of horoscopes and tarot cards, but your readings are overwhelmingly accurate. Thanks for all the insight!
- Pamela S.

I love getting my horoscopes from Horoscope Dates because of the detail and 100% accuracy rate of the readings I receive.
- Yukialove
I absolutely LOVE Horoscope Dates and Trusted Tarot!! The accuracy is spot on, even scary sometimes, like "how does she do it?" Nothing short of amazing and fun, I look forward to my daily delivery of helpful insights and guidance. You can't beat this, and it's free!
- Dominic L.

I love getting my daily horoscope here, as reading them gives me fulfilment and I find them really accurate - more than any other horoscopes! Thanks for your continued support xx
- Carla

I love getting your daily horoscopes. They are spot on. I feel like it's too good to be true. That you would put all the time and effort into me. The free reading you gave me was awesome and honestly a little scary. That you knew me so well just from what little information you had of me! I know I was asking for it, but it still shocked me when u gave me what I wanted. There were no generalized answers. You were speaking right to me. As I was reading it, I felt like I was reading an email from an old friend. Someone that I have known all my life. I instantly felt a bond with you. I constantly check my email looking for your name because I absolutely love all the different readings and horoscopes you offer!
- Abbie J.

I have been wanting to find a site like this one for a long time, when I discovered it and was given free readings and horoscopes that were sent to my email, I felt they were very personal and meant for me. Although i have never met Margaret Wells, I feel like she honestly cares for everyone's well being. I LOVE this site!
- Noelya

I love receiving my daily horoscope from you everyday because it gives me a bit of insight to how the day may go. Honestly the accuracy is amazing... good and bad! Thank you so much!!
- Christina P.

Horoscope Dates & Trusted Tarot is a must use everyday thing for me. Since I joined last year there hasn't been a day that I haven't had my daily Tarot. Margaret Wells is a wonderful women, even though I do not know her she's such a kind lovely person. I recommend everyone to try this site you won't be disappointed with the free guides & free Tarot.
- Dilly

I enjoy receiving your daily horoscope in my inbox because it gives me insight into my day. Some days it's just the exact kick in the seat I may need, other days it may be the exact shush of my mouth as sometimes my brain goes into overload and I speak before I think! I truly believe (though I don't know each planet etc.) that astrological signs play a big part in our moods each day and if we are aware of how something is effecting us we can be more in tune and sensitive to the signs you give us. Thank you for the daily messages you give! I also love the Free Tarot - I advise anyone to at least give it a try.
- Melisa.
It's rare that you come across true psychic ability and even though the reading I received was free I was sceptical, but the cards don't lie and ring true to my situation, weather it be something I knew or had not come across at that current time. I was very happy with the reading I received:) Thank You!
- Cid P.

I've always been into horoscopes and tarot readings and when I stumbled across Trusted Tarot I was so shocked to how accurate Horoscope Dates and Trusted Tarot are! I don't trust many websites but these are the one that I do trust and can count on for accurate information! This site is definitely my go to :)
- Mallory T.

Thank you for your daily horoscopes. I love Horoscopes Dates and your free subscription because it helps me on my daily activities and makes me grow in life.
- Hillary
Plus, get two free guides to help you learn and grow!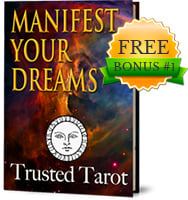 Free Manifestation Guide
Manifest your Dreams is a four part course that shows you how to create your perfect reality. By following these four steps, you will learn how to visualize your ultimate desires and bring them into reality.
Finding a new relationship, fixing an old one... even finding wealth in un-expected places is all possible! You just have to focus your mind and create your own opportunities.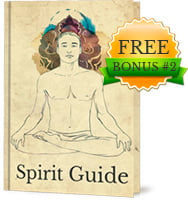 Free Spirit Guide
The Spirit Guide is a guided Hypnosis and Deep Meditation Exercise that will walk you through creating Warmth in your life. Healthy Relationships (professional, romantic, and even friendships) are built on 22 pillars - and this free MP3 will teach you the foundations.
Just sit back, relax, and let the free Spirit Guide take you on a journey of self improvement and discovery!
Get FREE Daily Horoscopes and Interpretations of your Astrology.