Thursday, 5 December 2013
Welcome to Horoscope Dates!
Home of the Horsocope Post! We make getting your horoscope quick and easy by browsing the top astrology websites each day and collecting the very best daily horoscopes for each star sign.
Select your star sign from the navigation menu at the top, or scroll down to see which Zodiac Sign each planet falls into today. If you are looking looking for the dates the zodiac signs, there is a table half way down the page. I'll be updating this page soon with the reason why these are the most accurate dates on the Internet!
Everyday, Horoscope Dates is updated with a new daily horoscope for each star sign. To get your horoscope, start by clicking on your astrological sign on the wheel below this paragraph, or select the "Daily Horoscope" drop-down menu from the navigation. You can also scroll down to see the current position of the planets, and find out which zodiac sign they are currently sitting in.

NEW! If you're looking for a great place to get a free Tarot reading, I highly recommend Free Tarot. It's written by a master Tarot reader and Astrologer, has detailed interpretations, and well worth a visit!
Horoscope Dates for the 12 Zodiac signs:
| | | | | | |
| --- | --- | --- | --- | --- | --- |
| | Aries | March 21 to April 19 | | Taurus | April 20 to May 20 |
| | Gemini | May 21 to June 20 | | Cancer | June 21 to July 22 |
| | Leo | July 23 to August 22 | | Virgo | August 23 to Sept. 22 |
| | Libra | Sept. 23 to October 22 | | Scorpio | October 23 to Nov. 21 |
| | Sagittarius | Nov. 22 to Dec. 21 | | Capricorn | Dec. 22 to January 19 |
| | Aquarius | January 20 to Feb. 18 | | Pisces | Feb. 19 to March 20 |
Zodiac Signs of the Planets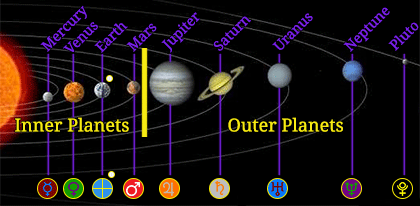 Current Locations of the Inner Planets
Current Locations of the Outer Planets